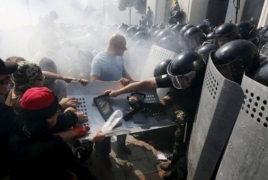 August 31, 2015 - 17:17 AMT
PanARMENIAN.Net - One hundred national guardsmen protecting the Ukrainian parliament were wounded, 10 seriously, after MPs gave initial backing to reforms for more autonomy in the rebel-held east, BBC News reports.
As police were pelted with fire crackers and petrol bombs, an explosion was heard in front of parliament.
MPs had just voted in a rowdy session to approve more powers in areas of Donetsk and Luhansk under control of pro-Russian rebels. A fragile ceasefire is in place.
Pushing through greater autonomy for the rebel-held areas is a key part of the Minsk deal, originally signed in February.
During the summer fighting between Ukrainian army forces and the rebels has escalated. But the two sides agreed last week to halt the violence on September 1, the day children in the region return to school.
Although the number of ceasefire violations appears to have fallen in recent days, a senior official in the OSCE international monitoring mission in Ukraine, Alexander Hug, warned that neither side was respecting the truce.
"Violations have become the norm," he told Swiss media.