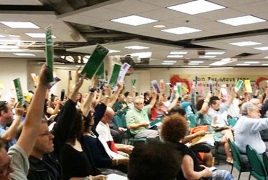 September 19, 2015 - 12:31 AMT
PanARMENIAN.Net - The United Teachers of Los Angeles House of Representatives (UTLA), the policy making body for the nation's second largest teacher union adopted a resolution Wednesday, September 16, recognizing 2015, as the "Year of Commemoration of the 100th Anniversary of the Armenian Genocide of 1915 and the month of April of every year thereafter as the month of Commemoration of the Anniversary Genocide", reported the Armenian National Committee of America – Western Region (ANCA-WR).
"Our heartfelt appreciation goes to the UTLA's leadership and membership for taking this historic and critical step to ensure that the Armenian Genocide is properly taught to the students and staff at LAUSD; and to educators Mr. and Dr. Sean and Suzie Abajian for leading the effort, Jose Lara and many others for their continuous support," stated ANCA WR Executive Director Elen Asatryan. "This motion is particularly important because having the support and commitment of the teachers who are in the classrooms will ensure that genocide studies remains an important part of the high school social studies curriculum. We look forward to working with them and connecting them to the Genocide Education Project in providing the proper materials they may use both in World and American History classes to teach the next generation about the Armenian Genocide," added Asatryan.
During the meeting, Asatryan took the floor to speak in support of the resolution on behalf of the ANCA-WR, highlighting that the case of the Armenian Genocide is not only a critical component of World History, but perhaps the proudest chapter in American history, during which time the Unites States and the American people helped rescue the Armenian nation through the Near East Relief in its most expansive humanitarian aid effort to date.
Following Asatryan, author, filmmaker, former educator, and ANCA-WR Education Committee Member Kay Mouradian also spoke in support of the resolution, more specifically from an educator's perspective. Mouradian went on to tell the capacity filled room the story of her mother, who was also a Genocide survivor, the significance in not allowing this important part of history to be forgotten or denied, and the critical role teachers play in preserving history.