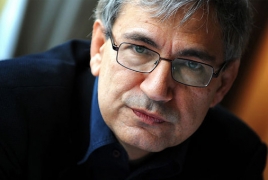 October 13, 2015 - 13:58 AMT
PanARMENIAN.Net - Prominent Turkish writer Orhan Pamuk said the country could collapse into sectarian conflict and blamed President Recep Tayyip Erdogan for the climate of insecurity, brutally, proved by Saturday, October 10's deadly attacks in Ankara, Global Post reports.
Pamuk, the 2006 winner of the Nobel prize for literature, told Italian daily La Repubblica that Turkey's increasing instability was linked to Erdogan's Justice and Development Party's failure to retain a parliamentary majority in June.
"The electoral defeat enraged Erdogan," Pamuk told the daily, arguing that the setback, which resulted in new elections on November 1, was also behind the recent resumption of hostilities between the army and Kurdish militants.
"He didn't succeed in convincing the Kurds to give him their votes for his plan to create a presidential republic," Pamuk said. "That is why he decided to go to the polls again on November 1. But neither the government nor the army were satisfied with how things were going and thus agreed to resume the war against the Kurdish movement."
Pamuk, who lives in Istanbul and New York, where he teaches at Colombia University, said most Turks realized what Erdogan was up to.
"The entire country has understood his intentions," he said. "At first he did not want to be part of the international coalition fighting the Islamic State. Then he agreed to do what the Americans asked him to but at the same time he started bombing the Kurds.
"I am worried (for Turkey) because I know that Erdogan wants to govern alone at all costs,» Pamuk said.