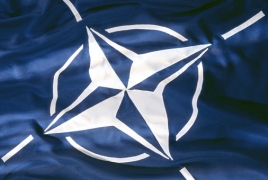 October 15, 2015 - 13:28 AMT
PanARMENIAN.Net - A member of the Armenian delegation at NATO Parliamentary Assembly's 61st session inquired of NATO Secretary General Jens Stoltenberg about Turkey's violation of Armenia's airspace on October 6 and 7, Tert.am reports.
Stoltenberg told Tevan Poghosyan he was not informed about the issue.
"Stoltenberg said he had never looked into the question. He also asked me to send an official inquiry for him to thoroughly study the matter and give an answer," Poghosyan told Tert.am.
Poghosyan approached the NATO chief in the corridor as he had not been able to raise the question during discussions of reports and resolutions.
Though Armenia's Ministries of Foreign Affairs and Defense issued no statements, the head of the Civil Aviation Department Artyom Movsisyan confirmed that Turkish helicopters violated Armenia's airspace for 2-4 minutes on October 6-7. The Ankara dispatcher said, according to Movsisyan, that the Turkish helicopters entered Armenia's airspace because of bad weather.
Poghosyan said that he raised the question in the context of Stoltenberg's statement on recent Russian violations of Turkey's airspace and NATO's vow to defend each of its members at any cost.
Poghosyan hopes for clarifications by the NATO Secretary General ahead of NATO week in Armenia in early November. A corresponding letter has been sent to James Appathurai, NATO Secretary General's Special Representative for the Caucasus and Central Asia.