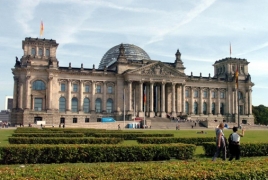 October 17, 2015 - 15:48 AMT
PanARMENIAN.Net - Readings of Bundestag resolution on the Armenian Genocide will be postponed for an indefinite period, German De Spiegel reports, citing anonymous sources.
"Under conditions of absolute silence, the ruling [parliamentary factions], the Christian Democratic Union/Christian Socialist Union (CDU/CSU) and the Social Democratic Union of Germany (SPD) have agreed to possibly postpone the second and third readings of the resolution that characterizes the mass killings of Armenians committed by the Young Turks' government 100 years ago as Genocide," the German publication says.
The source adds that those responsible for the ruling party's foreign policies "do not want to make official comments on the report. Reliable sources say, however, that Germany simply doesn't want to unnecessarily provoke Ankara, which is expected to help Europe deal with the migrant crisis."
"Debates over the resolution were underway as early as in spring. Back then, Foreign Minister Frank-Walter Steinmeier (SPD) refused to talk about the Genocide, having settled affairs with Ankara. German President Joachim Gauck opposed this stance in his speech, and the pressure made the Christian Democratic Union to eventually include the term "genocide" in the resolution text," the paper writes.
Germany's ambassador to Armenia Bernhard Matthias Kiesler earlier said that the discussions on the Armenian Genocide resolution continue in Bundestag. Kiesler said he hoped that German Bundestag would soon adopt a resolution on the Armenian Genocide, with much clearer and forward-looking wording, but failed to name an exact date.
Ex-ambassador of Germany to Armenia, Reiner Morell had declared that the process of adopting a resolution on the Armenian Genocide was not over in the Bundestag. "Speaking on the Genocide at the April 24 session, Bundestag President Norbert Lammert used the term Genocide, but no final decision was made because of varying statements. The resolution was therefore sent to the Foreign Relations Committee," Morell said back then.
German President Joachim Gauck on April 23 condemned the massacre of 1.5 million Armenians by Ottoman Turkish forces a century ago as genocide.
"We Germans must still come to terms with the past, as to whether there is in fact a shared responsibility, possibly even complicity, in the Genocide of the Armenians," Gauck said at a centennial commemorative event in Berlin Cathedral.