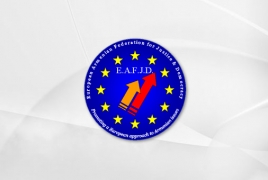 October 20, 2015 - 12:41 AMT
PanARMENIAN.Net - The European Armenian Federation for Justice and Democracy (EAFJD) released a statement on Monday, October 19, endorsing the pro-Kurdish Peoples' Democratic Party (HDP) in the November 1 general elections in Turkey, the Armenian Weekly reports.
In its statement, the EAFJD urged citizens of Turkey living in Europe to vote for the party, highlighting that the HDP stands for "freedom, equality, peace, and justice." The EAFJD, which sent members to observe the June 7 elections in Turkey, said the organization would "closely monitor the course of events," noting that "the EAFJD expects the Turkish authorities to ensure a free and fair campaign."
"The EAFJD's support for the HDP is accounted for by the shared values and approaches towards several issues of mutual interest. The EAFJD has been in an ongoing dialogue with the HDP since the latter's founding in 2012, and has already supported the candidacy of several ethnic Armenians from the HDP," EAFJD said in the statement.