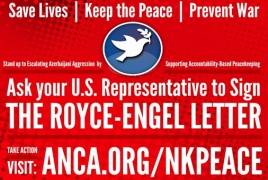 October 27, 2015 - 11:14 AMT
PanARMENIAN.Net - Senior Members of the U.S. House Armed Services, Appropriations and Intelligence committees joined Foreign Affairs Committee Chairman Ed Royce (R-CA) and Ranking Democrat Eliot Engel (D-NY) and over 80 of their colleagues in calling upon the Obama Administration to support the implementation of concrete, pro-peace measures to de-escalate aggression along the borders between Armenia, Artsakh, and Azerbaijan, reported the Armenian National Committee of America (ANCA).
"Violence along the line of contact in Nagorno-Karabakh has increased dramatically, and the Administration policy of non-attribution when condemning violations isn't working," explained Chairman Royce. "It must change. In our letter, we propose a few common sense steps for the U.S. and the Minsk Group to take to deter further violence. Specifically, the call for all parties to withdraw snipers, and the proposal to deploy OSCE monitors and equip them with gunfire locator systems, provides tools to increase transparency and accountability for each and every cross-boundary violation. Ambassador Warlick should support these proposals, and press for their adoption by other Minsk Group partners," concluded Royce. The Royce-Engel letter, addressed to Ambassador Warlick – the U.S. representative to the OSCE's Minsk Group tasked with reaching a resolution of Nagorno Karabakh-related security and status issues – specifically calls for the U.S. and OSCE to abandon their failed policy of false parity in responding to acts of aggression.
The letter outlines three concrete pro-peace steps that would, "in the short-term, save lives and help to avert war. Over the longer term," the letter notes, "these steps could contribute to a comprehensive and enduring peace for all the citizens of the region: an agreement from all sides not to deploy snipers along the line of contact; the placement of OSCE-monitored, advanced gunfire-locator systems and sound-ranging equipment to determine the source of attacks along the line of contact; the deployment of additional OSCE observers along the line of contact to better monitor cease-fire violations.
Armenia and Nagorno Karabakh have both expressed support for these life-saving initiatives; Azerbaijan has not.