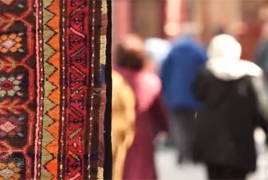 November 25, 2015 - 11:50 AMT
PanARMENIAN.Net - CNN released a video material on Armenia's rich tradition of carpet-weaving and a centuries-old craft turned into a multi-million dollar industry.
Every weekend, a park in central Yerevan turns into a large open-air market. It is hard to miss one of the most popular items sold there: brightly colored handmade carpets, CNN says.
The TV channel staff met with Aram, the owner of an antique rug shop in Yerevan, who showed them his older pieces: those can be thousands of dollars.
New carpets aren't cheap either, but in recent years Armenia's carpet-weaving industry is facing tough times because of the economic crisis. And many are now wondering, if the ancient heritage will last.
Leonid Andriasyan is a productions manager of one of Armenia's largest carpet manufacturing companies, the Megerian. The family-run company opened in New York in 1917, and now it has offices all around the world.
"This is a big part of Armenian culture, and yes, it's also part of our history," Andriasyan said.
The process begins with Armenian wool; it is spun on Soviet-era machines. Everything else is done by hand.
The yarn is dyed with natural ingredients and then woven with a unique double knot. It can take the weavers months to finish one carpet.
"The carpet-weaving business in general is a very difficult one, because people will buy almost anything during the worst financial crises, even a car, but carpets are the last thing they buy. You really need to know how to sell one to make it," Andriasyan goes on to say.
The crisis is affecting Tufenkian carpets too, another big local brand, CNN says.
Making carpets using modern machines could make production cheaper and certainly faster, but this is not an option for Andriasyan.
"When you buy a handmade carpet, it has a value, and starting from that day, its price will increase. But if you buy a machine made carpet, its price will go down from the day you buy it," he said.