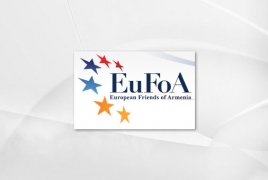 December 3, 2015 - 15:41 AMT
PanARMENIAN.Net - The Dutch parliament hosted a hearing on Nagorno Karabakh and the recent escalation along the Armenia-Azerbaijan border.
European Friends of Armenia (EuFoA) was part of the delegation that participated in the hearing, organized by the Dutch MP Pieter Omtzigt and attended by Dutch politicians.
Organizing the event, Dutch MP Pieter Omtzigt invited a FAON delegation (Federation of Armenian Organisations in The Netherlands) to the hearing following a letter that the Federation had sent, concerning recent escalation.
The delegation included Inge Drost and Mato Hakhverdian (FAON), the Armenian MP Tevan Poghosyan and Eduardo Lorenzo Ochoa (European Friends of Armenia).
Delivering opening remarks, Drost presented the background of the current situation in Nagorno Karabakh and gave a concise overview of the recent history. She also asked the Dutch government to support concrete measures to limit ceasefire violations in Nagorno Karabakh. Also, she called on members of the Dutch parliament to visit Nagorno-Karabakh and help ensure that its people can have a place at the negotiating table.
Next, Ochoa explained what European Friends of Armenia has been doing to European parliament and other EU Institutions focused on Nagorno Karabakh.
"It is very important for us to contribute to this hearing and we are very grateful to FAON for giving us this opportunity" he said. "National parliaments and their members can play an important role and their support for a peaceful resolution to this question is much needed. In any case we hope that the Dutch parliament will support measures which will end ceasefire violations."
Also speaking at the event was Poghosyan, who briefed the audience on the current situation in Nagorno Karabakh and the Armenia-Azerbaijan border. He emphasized that the participation of Nagorno Karabakh representatives in the negotiation process is essential for the settlement of the conflict.