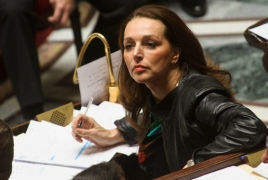 December 4, 2015 - 13:38 AMT
PanARMENIAN.Net - French MP Valerie Boyer expressed resentment and bewilderment over the government and President Francois Hollande's stance on her bill outlawing genocide denial, ArmenianGenocide100.org reports.
A bill, criminalizing the denial of the 20th century genocides and crimes against humanity, authored by Boyer and other MPs, was put to vote at the French parliament Thursday, December 3. The bill, envisaging a five-year prison term and a €45.000 fine, was introduced to the National Assembly on October 14, 2014.
Addressing the parliament on Thursday, Boyer said that MPs need to sometimes put common good above their own interests and political disputes.
"Today, for the sake of human dignity, I called on members of all parties to support my bill," Boyer said in a Facebook post, citing her own speech at the parliament.
"2011, 2012, 2013, 2014, 2015… Years go by, but we allow denialism to spread in our country. We have a historic chance today to put an end to this situation.
I remember the 2011 discussions in this very hall, during which both the rights and lefts joined efforts in our struggle against denialism.
I remember how in 2012 Francois Hollande promised in front of Komitas statue to initiate a bill criminalizing the Armenian Genocide denial.
Several months later in 2012, my colleague Guillaume Larrivé applied to the President, seeking to clarify the deadlines for submitting the draft.
The government cites timing as a problem for my bill, but I'd like to remind that the Élysée Palace had four years to submit a similar draft. Should we wait for 2017 this time?
Returning my bill to the [Justice] Committee, the government presented no proposals, no legal argument and, worst of all, no position.
The examination of my bill, however, will help Francois Hollande face his own unfulfilled promises," her statement reads in part.
France's National Assembly Thursday voted to send a bill criminalizing the denial of the Armenian Genocide, introduced by Boyer, back to the Justice Commission, which had discussed the measure on November 25.