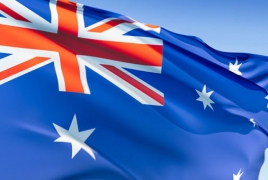 December 4, 2015 - 16:39 AMT
PanARMENIAN.Net - Australian parliament hosted on December 1-2 meetings and discussions on recognition of the Armenian Genocide and settlement of the Nagorno Karabakh conflict.
The discussions were initiated by the Karabakh Permanent Representation to Australia and the ARF Armenian National Committee of Australia.
Leader of the Karabakh National Assembly's Dashnaktsutyun faction David Ishkhanyan, the NKR Permanent Representative to Australia Kailar Mikayelian, and representatives of the Armenian National Committee of Australia participated in the meetings.
At the meetings, Ishkhanyan and Mikayelian briefed the MPs on the war unleashed by Azerbaijan against Artsakh, state-building process in the Republic, the peaceful settlement of the conflict between Azerbaijan and Karabakh, as well as current developments in the country.
In his speech, Australian MP John Alexander touched upon the settlement of the conflict between Azerbaijan and Karabakh and the 24th anniversary of Artsakh's independence, further stressing: "Today, Karabakh has got a democratic system, a government, a parliament, observing human rights and freedom of the press, which is completely the opposite of the neighboring Azerbaijan".
During the meetings the importance of the visit of the Australian MPs to Artsakh in the near future was also touched upon; it was stressed that the visit will allow them to get firsthand information about Artsakh's achievements and the country's daily life.