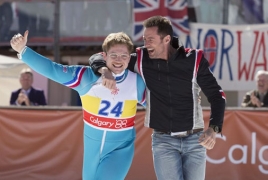 December 16, 2015 - 10:55 AMT
PanARMENIAN.Net - 20th Century Fox has released the first international trailer for "Eddie the Eagle", showing the spirit of the titular character, AceShowbiz reports. Starring Taron Egerton, the upcoming movie focuses on Michael Edward, the first ski jumper to represent Great Britain in the 1988 Winter Olympics.
It will also show Edward's ambition to be one of the competitors in the Olympics, despite his farsightedness. Director Dexter Fletcher's effort to put some comedies on Egerton's character makes the movie more enjoyable than other biopics.
The trailer opens with Edward a.k.a. Eddie the Eagle in his childhood as he trains hard to become an Olympian, although his father stresses that the kid is not meant to be an athlete. "You're right. I'm never gonna go to the Olympics. I'm gonna go the Winter Olympics," Eddie says.
His skills don't get better until a ski expert Bronson Peary (Hugh Jackman), who became an Olympics champion in 1968, decides to help him. Together, the two embark on the Olympic quest, though it's not about the result, but it's about being there.
Jackman recommended parents to take their children to theaters to watch this movie because there's a good moral value in it. "Every kid should see this movie, because it reminds people that you don't have to win to be a winner. Eddie the Eagle might not have ended up on the medal podium, but he was victorious. It's a story of a man who had a dream, and nothing was going to stop him," Jackman said.
Christopher Walken, Rune Temte, Tim McInnerny, Jo Hartley, Edvin Endre and Lasco Atkins also star in the movie that will be released on February 26, 2016.