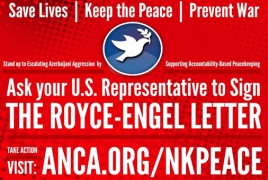 December 16, 2015 - 11:15 AMT
PanARMENIAN.Net - The U.S. State Department has officially welcomed proposals by U.S. House Foreign Affairs Committee Chairman Ed Royce (R-CA), Ranking Democrat Eliot Engel (D-NY) and more than 80 of their House colleagues to check Azerbaijan's escalating aggression, reported the Armenian National Committee of America (ANCA).
The Department's support for the Royce-Engel peace proposals comes during a year that has already seen 40 Armenians killed by the Azerbaijani military -- 4 just last week. Earlier on Tuesday, December 15, Azerbaijani Minister of Defense, Zakir Hasanov, publicly pledged renewed anti-Armenian aggression, stating "we are going to inflict even more devastating attacks."
In the November 12 State Department response to the Royce-Engel letter, a copy of which has been shared with the ANCA, Assistant Secretary for Legislative Affairs Julia Frifield explained: "The United States supports proposals to withdraw snipers, expand OSCE's role via an OSCE investigation mechanism and deploy sensors along the line of contact and the Armenia-Azerbaijan international border. [...] Without a mechanism to verify ceasefire allegations, or sensors to pinpoint the location of gunfire, it is difficult for the Co-chairs to make specific accusations against one side's use of force."
Armenia and the Republic of Nagorno Karabakh have agreed to all three provisions advanced in the Royce-Engel letter. The Obama Administration and the OSCE also support these initiatives. Only Azerbaijan opposes their implementation. At the December 9 Capitol Hill celebration of Karabakh freedom last week, Chairman Royce announced a special Congressional briefing with U.S. Ambassador James Warlick - the State Department official responsible for the Nagorno Karabakh peace talks - to get concrete answers to his concerns.