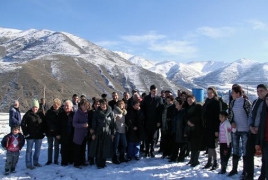 December 16, 2015 - 12:22 AMT
PanARMENIAN.Net - The Foundation for the Preservation of Wildlife and Cultural Assets (FPWC) and VivaCell-MTS have summed up the results of a joint program implemented to improve water supply network in Armenian rural communities.
As a result, Lor community of Syunik Province will be provided with 24-hour water supply. A 2 km long water pipeline was built, with the water reservoir and the water intake system reconstructed and fenced.
The General Manager of VivaCell-MTS Ralph Yirikian, the FPWC team, Lor community head David Arustamyan as well as community residents attended the opening ceremony of waterline and the water reservoir.
"I know firsthand what having no water supply at home means," Yirikian said. "Imprinted in my memory are the pictures of the "road of life" in the war-torn Beirut of 80s, my younger brothers and I, armed with water cans, running every day to get water from the neighboring block. Nothing can substitute water. Today we are happy to share the joy of the village residents who are now provided with all day round water supply."
Hamo Sahyan's birthplace Lor has 420 inhabitants. The community had never had a sustainable water supply. For years, the residents used the neighboring village water lines, which were used for irrigation in summer, with Lor getting almost no water as a result.
Because of the lack of the water reservoir sanitary norms the supplied water was mainly used for irrigation and household purposes. The residents used only the village reservoir water for drinking.
In the framework of the joint program implemented by the FPWC and VivaCell-MTS, Chkalov community in Lori province and Tsovagyugh community in Gegharkunik province have also been provided with sustainable water supply in 2015.