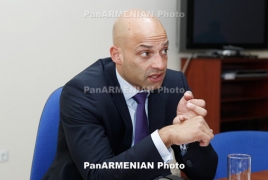 December 17, 2015 - 12:03 AMT
PanARMENIAN.Net - NATO Secretary General's Special Representative for the Caucasus and Central Asia James Apathurai commented in an interview with Tert.am on the reports on possible deployment of peacekeeping forces in Nagorno Karabakh, describing the plan as premature.
"As occasionally reported in the press, the deployment of peacekeeping units in Nagorno Karabakh could be a possible element of a political settlement, but no such settlement has been achieved yet.
So it is very premature to discuss NATO deployment. Instead, I support the renewed efforts of the Minsk Group Co-chairs and hope that during 2016 we will see a productive dialogue between the Armenian and Azerbaijani side," he said. Asked to comment on the possible scenario of developments in the South Caucasus republics (which cooperate with the North-Atlantic Alliance) against the backdrop of the deteriorating Russia-Turkey relations, Apathurai said he is sure that the tension between the two countries will not affect the partnership.
"We recognize of course that each of the three countries in the South Caucasus have chosen their own security policy, and we respect that. Being a NATO partner is fully compatible with membership in NATO, the CSTO, the Eurasian Economic Union, the Non-aligned Movement or other organizations of regional cooperation. Indeed, more regional cooperation seems to make a lot of sense for the South Caucasus both from an economic and strategic perspective. In this context, I am pleased to see that NATO can sometimes provide the framework for more cooperation between Armenia and Georgia, or Georgia and Azerbaijan. However, each of our partnership relations is individual in nature. In case of Armenia, our basic document is the Individual Partnership Action Plan, available on the internet," he added.