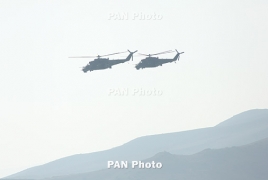 December 26, 2015 - 14:50 AMT
PanARMENIAN.Net - Russia's airbase in the Armenian capital has started implementing flight inspections of Mi-24P helicopter gunships that have been deployed to Erebuni air base in December, a spokesperson for the Southern Military District of Russia's Armed Forces said Friday, December 25, TASS reports.
"During flight inspections, pilots and crew members will practice takeoff, flights at various speeds and at altitudes of 100-1,500 meters and landing," Maj. Andrey Dobrosmyslov said.
"The pilots will inspect parts and accessories during loads and g-loads in both good and bad weather conditions," he said.
The flight calibration of the helicopter squadron will last two months, the military concluded.
Russian airbase, located in Yerevan, was formed in 1995. In November 1998, multipurpose MiG-29 jet fighter aircraft were redeployed at the base, making it home to a squadron of MiG-29s and Mi-24 attack helicopters.