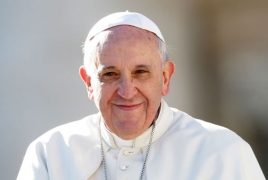 January 7, 2016 - 14:19 AMT
PanARMENIAN.Net - Visiting Armenia in April 2016, the 101st anniversary of the 1915 Genocide, is a possibility for the Pope, although this has not been absolutely confirmed, World Religion News reports.
He hopes to visit the country, but admits, "I am old and these trips are heavy."
The Pope may also visit three South-American nations: Peru, Colombia and Venezuela. Argentina, Chile and Uruguay are also awaiting a visit from the Pope. It is speculated that these trips could be joined with his visit to the shrine of Our Lady of Aparecida in Brazil, whose 300th anniversary he promised to celebrate in the country in 2017.
Pope Francis confirmed that he will be visiting Mexico in the first half of 2016 while celebrating Mass on the Feast of Our Lady of Guadalupe last December 12. The Holy See will begin in Mexico City, and then will go on to make two day trips: to Chiapas to meet indigenous individuals, and to the Morelia, a high-crime area, to meet young people. The Pope is scheduled to return to Rome via Ciudad Juárez on the Mexico-U.S. border. This will be his first time visiting the country and second time in the North American continent. His itinerary also includes a visit to the Our Lady of Guadalupe Shrine.