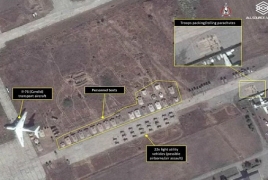 January 16, 2016 - 15:11 AMT
PanARMENIAN.Net - A Russian government website posted this week an unusual document that details the terms of its aerial support for Syrian President Bashar al-Assad, the Wall Street Journal reports.
Among other revelations in the seven-page contract dated August 26, 2015, the Kremlin has made an open-ended time commitment to its military deployment in Syria, and either side can terminate it with a year's notice.
Russian military personnel and shipments can pass in and out of Syria at will and aren't subject to controls by Syrian authorities, the document says. Syrians can't enter Russian bases without Russia's permission. And Russia disclaims any responsibility for damage caused by its activities inside Syria. Since Russia's bombing campaign started at the end of September, Assad's forces have been able to recapture some territory from rebels, and much of the humanitarian aid to the country has come to a halt. A war that already looked intractable now seems more so.
Russia has deployed about 70 military planes to Syria, according to Russian news accounts, and the Defense Ministry has said that it has flown 5,500 sorties.
At the time the document was signed, Russia was publicly denying any stepped-up military commitment to Syria. Over the month of September, as the Russian military radically stepped up shipments to its military bases near the Syrian coast, the official Kremlin line was that they were simply performing routine maintenance there.
But two days after Russian President Vladimir Putin delivered an address at the UN General Assembly, he announced that Russia would begin bombing in Syria to fight the Islamic State. Western governments have said that in reality, Russia has concentrated on raiding territories of Syria held by other rebel groups arrayed against Assad, including those backed by the United States.
"I think this is an unprecedented document. It falls under the logic of operations of the Russian side in Syria," said the head of the foreign affairs committee of Russia's upper house of parliament, Konstantin Kosachev, the Interfax news agency reported Friday.
"This logic means that our operations need a firm, and clear, legal foundation understandable to everyone," Kosachev said.