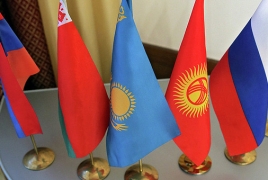 February 3, 2016 - 15:26 AMT
PanARMENIAN.Net - Eurasian Economic Commission Board Member – Minister in charge of Industry and Agroindustrial Complex Sergei Sidorsky met on Monday, February 1 with the Portugal Minister of Economy Manuel Caldeira Cabral, the EEC website reports.
During the meeting, Sidorsky briefed the Portuguese side on the Eurasian Economic Union's main goals and objectives, as well as key areas of cooperation.
According to Sidorsky, the purpose of the EEU delegation's visit is to explore possibilities of collaboration with Portuguese organizations in the sector of light industry. In some regions of the Union member-states, he said, special clusters have been set up where textile and shoe companies successfully operate. Based on these platforms, joint projects with foreign partners can be launched to develop new productions, Sidorsky noted.
Minister Cabral, in turn, hailed the potential of trade and economic cooperation between Portugal and the EEU, based on the Union's market benefits and investment conditions.
Afterwards, Sidorsky suggested working out the issue of signing a memorandum of cooperation, with the Portuguese side supporting the proposed format.
Also, the parties discussed possibilities of cooperation in the pharmaceutical industry and the production of medical products.
The Eurasian Economic Union is an economic union of states located primarily in northern Eurasia. A treaty aiming for the establishment of the EEU was signed on May 29, 2014 by the leaders of Belarus, Kazakhstan and Russia, and came into force on January 1, 2015. Treaties aiming for Armenia and Kyrgyzstan' secession to the Eurasian Economic Union were signed on October 9, 2014 and December23, 2014, respectively. Armenia and Kyrgyzstan's accession treaties came into force on January 2, 2015 and August 6, 2015.