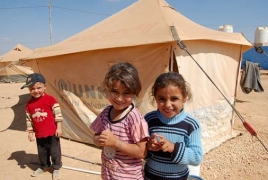 February 12, 2016 - 17:53 AMT
PanARMENIAN.Net - German Chancellor Angela Merkel's liberal refugee policy, which brought 1.1 million asylum seekers to Germany in 2015, is not sustainable in the long run, French Prime Minister Manuel Valls warned Friday, February 12, AFP reports.
"This policy, which is justified temporarily, is unsustainable in the long term," he told German regional media group Funke, pointing to the limited capacity not just in Germany, but also across Europe, to receive newcomers.
"We have to say this clearly: Europe cannot take in all migrants from Syria, Iraq or Africa. It has to regain control over its borders, over its migration or asylum policies," said Valls, who is travelling to southern Germany to attend the Munich Security Conference.
The French prime minister's criticisms, which are due to be published on Saturday, came after his Russian counterpart Dmitry Medvedev lambasted Merkel's asylum policy.
"It's quite simply stupid to open Europe's doors wide and invite in everyone who wants to come to your country," Medvedev said in an interview to be published this weekend by the economic daily Handelsblatt.
"European migration policy is a total failure, all that is absolutely frightening," Medvedev added.