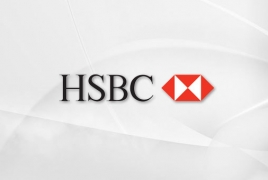 February 15, 2016 - 07:59 AMT
PanARMENIAN.Net - International bank HSBC said Sunday, Feb 14, it has decided to keep its headquarters in London after considering a move to Hong Kong in response to tougher UK banking regulations, the Associated Press reports.
In a statement, the bank said that London was a global financial center, and home to a large pool of highly skilled, international talent.
"It remains therefore ideally positioned to be the home base for a global financial institution such as HSBC," the bank said, adding that the decision of its board of directors was unanimous.
Chief executive Stuart Gulliver said "having our headquarters in the UK and our significant business in Asia Pacific delivers the best of both worlds to our stakeholders."
Europe's largest bank by market value, HSBC announced last year that it was reviewing the location of its headquarters.
The bank has been steadily shifting its center of gravity toward the fast-growing Asian economies. It has suffered a series of regulatory fines and crackdowns in Europe and the U.S. and wants to capitalize on Asia's rapidly expanding class of newly wealthy.
It also has warned of the economic risks facing Britain if the country opts to leave the European Union in a referendum that is due by next year, and complained about the cost of a levy that the British government put on banks after the 2008 global financial crisis.
British Treasury chief George Osborne announced in last year's budget that the bank levy would gradually be reduced.
China's increasing political interference in Hong Kong, may also have been a factor in HSBC's decision, the AP says.
A former British colony, Hong Kong was returned into China in 1997 as a special administrative region that retained its British-based legal system and a high level of political freedom. Beijing, however, has for several years sought to exert more control, putting a question mark over the tiny territory's status as a magnet for foreign business and finance.
Britain's Treasury said HSBC's decision was "a vote of confidence in the government's economic plan, and a boost to our goal of making the U.K. a great place to do more business with China and the rest of Asia."
HSBC has offices in 72 countries and territories in Asia, Europe, the Americas, the Middle East and North Africa.