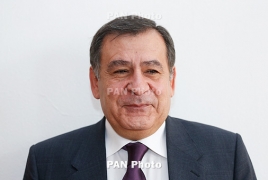 March 14, 2016 - 14:12 AMT
PanARMENIAN.Net - Negotiations on the gas price reduction with the Russian side are currently underway, Armenia's Minister of Energy and Natural Resources told reporters Monday, March 14.
The price of $165 for the imported 1000 cubic meters of gas will be preserved through April 1, 2016. Armenia used to pay $189 for the same volume.
"Once negotiations are over, we'll let the public know about the outcome," Levon Yolyan said.
The Minister deemed improbable that talks might fail, with Armenia having to pay $189 again.
Head of the National Energy Security Fund of Russia Konstantin Simonov said earlier that Russia may cut the price of natural gas for Armenia by 15-20%.
Armenian Deputy Minister of Energy and Natural Resources Areg Galstyan noted, in turn, that Armenia is interested in the early completion of negotiations on the reduction of Russian gas prices.
"The reduction of tariffs would serve as a powerful stimulus for the Armenian economy, including heavy industry, which is important in terms of GDP growth," said Galstyan.
In mid-January, Armenia's authorities asked their Russian counterparts to lower the price for the natural gas imported to Armenia.