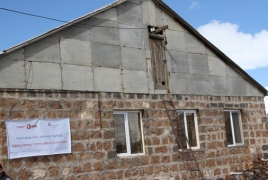 March 30, 2016 - 17:56 AMT
PanARMENIAN.Net - In the framework of a VivaCell-MTS housing project, renovation and construction of half-built houses were implemented in all the provinces of Armenia throughout 2015, with 40 socially vulnerable families benefiting from the project.
Heads of VivaCell-MTS and Fuller Center for Housing Armenia visited Ddmashen community to participate in the housewarming ceremony of the Melikyan family.
Over the years, the Melikyans had been moving from one place to another, forced to live in a trailer for some 15 years. Ten years ago the family finally bought a half-built house hoping to soon finish the construction.
"It is indescribably difficult to live and raise children in a trailer. My son, Taron, celebrated his first New Year in a half-built stone building, and my family has a home today," said Leyla, the mother of the family.
"Personal happiness is a precondition for success," said VivaCell-MTS General Manager Ralph Yirikian. "Homelessness, unemployment and various problems affect a person's psychological health and happiness. It is not by chance that I frequently mention hope and belief in my speeches. Sometimes, a little act of kindness can fundamentally change people's life, making them more confident, self-sufficient, tolerant, and successful."
Since 2007, VivaCell-MTS has contributed AMD 228.3 million for the basic reconstruction or renovation of houses thus improving the life quality of 480 people with social needs in 31 villages of Armenia's provinces.