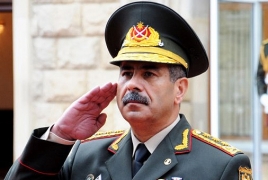 April 4, 2016 - 12:10 AMT
PanARMENIAN.Net - At a Security Council meeting chaired by the Azerbaijani President, Defense Minister Col. Gen. Zakir Hasanov admitted that Baku started the offensive against Karabakh, citing, however, senseless arguments, Razm.info reports.
The Minister said, in particular:
"The Armenian armed forces have recently been organizing subversions, attacking territories located along the frontline and using heavy weaponry and artillery against our population. Recent events show that the number of casualties among the civilian population has increased.
To prevent these subversive attacks, we assessed the operational situation and decided to deal blows to the firing points and artillery units of the Armenian armed forces to make them move away from our villages.
At the same time, taking into account the movement of reserves of the Armenian armed forces in a certain direction, reconnaissance units of Azerbaijani armed forces carried out planned activities in three directions... Our actions primarily aim to liberate our settlements and firing points."
Thus, the Azeri Minister factually acknowledged that Baku was the one to start the offensive, citing justifications that have nothing to do with the reality.
Moreover, Zakir Hasanov stressed the need for "the liberation of Azerbaijani settlements," thus proving Azerbaijan is not ready for peace talks and seeks to resolve the conflict by force," Verelq.am said.
On the night of April 1-2, Azerbaijani armed forces initiated overt offensive operations in the southern, southeastern and northeastern directions of the line of contact with Nagorno Karabakh.
As many as 18 Karabakh servicemen were killed and 35-40 were wounded in the course of military operations. A civilian, 11-year-old Vaghinak Grigoryan was also killed, with 6 other civilians, including two kids, wounded.
As of April 4, the Azerbaijani side has lost 20 tanks and over 5 armored vehicles, including an IFV, as well as 2 military helicopters and 3 unmanned aerial vehicles.
One Karabakh tank has been destroyed so far.
Read also:Armenian units destroy five Azerbaijani tanks early Apr 4