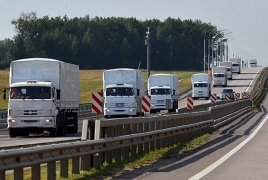 April 4, 2016 - 12:40 AMT
PanARMENIAN.Net - Representatives of a charity fund and several social organizations, as well as human rights activists set up a care center in Moscow to benefit the peaceful population of Nagorno Karabakh, LifeNews reports.
A lot of residents of the Russian capital have relatives and friends in the region calling for immediate outreach in the form of medicines, clothing and finantial support.
The initiators of the project are currently discussing details on the delivery of the humanitarian aid. The necessity goods will most likely be sent by plane.
The group came up with the idea of establishing a public care center after Azerbaijan shelled a Nagorno Karabakh school, killing one child and wounding two others.
On the night of April 1-2, Azerbaijani armed forces initiated overt offensive operations in the southern, southeastern and northeastern directions of the line of contact with Nagorno Karabakh.
As many as 18 Karabakh servicemen were killed and 35-40 were wounded in the course of military operations. A civilian, 11-year-old Vaghinak Grigoryan was also killed, with 6 other civilians, including two kids, wounded.
As of April 4, the Azerbaijani side has lost 20 tanks and over 5 armored vehicles, including an IFV, as well as 2 military helicopters and 3 unmanned aerial vehicles.
One Karabakh tank has been destroyed so far.