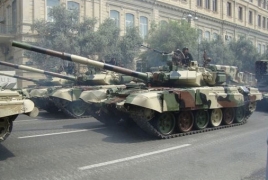 April 5, 2016 - 20:54 AMT
PanARMENIAN.Net - Moscow is extremely displeased with the Azeri use of the Russian-supplied armament, the country's Federation Council official said, according to Govorit Moskva radiostation.
"Moscow assisted Azerbaijan in forming armed forces, also supplying Baku with modern military equipment. However, we're extremely displeased with the way Azerbaijan chose to use the armament, and we have every right to voice our opinion," First Deputy Chairman of the Russian Federation Council upper house Defense and Security Committee Franz Klintsevich said.
"Russia can cease weaponry supplies to Azerbaijan, unless the latter stops escalating the conflict. Current events at the border involving armed forces of Azerbaijan are extremity aggressive in their nature," he noted.
"In the present case, the Azeri use of heavy weaponry and multiple rocket launcher systems is very disturbing. According to the sources, TOS-1 Solntsepyok heavy flame thrower was employed – a very modern weapon equipped with thermobaric ammunition, usually used in serious frontline offensives," the Senator noted.
He also added that President Putin should be the one to raise the issue of halting weaponry supplies to Azerbaijan, since "a conglomerate of very complicated closed agreements is at work here."