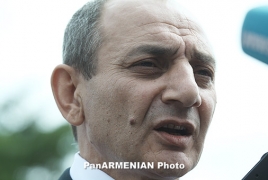 April 24, 2016 - 11:18 AMT
PanARMENIAN.Net - The President of the Nagorno Karabakh (Artsakh) Republic issued an address on the 101st anniversary of the Armenian Genocide.
"Today the Artsakh people together with the whole Armenian nation remember one and a half million innocent victims of the Armenian Genocide," Bako Sahakyan said.
"Regrettably, genocides have been committed in modern times as well, and had the Armenian Genocide been recognized and condemned by the international community in due time, there would not be millions of new innocent victims in different quarters of the world.
Both in those tragic days of 1915 and today when the Armenians strive for their right to be free and independent, for the recognition and condemnation of the Armenian Genocide, we have felt the support of different countries and numerous people who put justice, humaneness, protection of universal human rights above everything. We are grateful to all the friends of the Armenian people.
Our foe has not changed, but our people have. Today the Armenians appear to the world with the two Armenian republics, the Armenia-Artsakh-Diaspora unyielding trinity and unshrinking determination to live and create in their historic land.
In April the Armenians all over the world once again stood on their feet undivided and consolidated to affirm to the world that they are were ready to defend their Fatherland and dignity and would do everything possible together with their brave sons and heroic army, their unity, cohesion and invincible spirit," the President said.