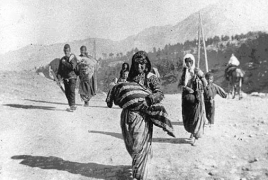 April 24, 2016 - 12:39 AMT
PanARMENIAN.Net - The United States recently declared ISIS guilty of genocide against the Yazidis and other ethnic groups within its conquered territory. No doubt, the rape and enslavement of Yazidi women, in addition to the slaughter of Yazidi men and the horrors inflicted upon other minority groups, constitute genocide. To ignore the ISIS rampage in Syria and Iraq as anything but genocide, would be to erase the untold suffering and death of its victims, an article published at the Huffington Post said.
"Thus, the meaning of a word, especially when it defines the inhumanity of mass slaughter and immeasurable human suffering, is important. In this case, the word "genocide" was invented by Yale Professor Dr. Raphael Lemkin while trying to find a way to describe the mass slaughter of the Armenians in the Ottoman Empire. Furthermore, Dr. Lemkin was clearly stating "it happened to the Armenians." The word, and Dr. Lemkin's role in creating this word, is described in a New York Times piece titled Questions and Answers About the Armenian Genocide.
Therefore, any notion of a debate regarding the murder of 1.5 million Armenians is simply a political smokescreen. The genocide happened; it happened to the Armenians, and the man who invented the word acknowledged this fact. If anything, the word was invented because of the slaughter of the Armenians. If anyone needs to hear from the Yale professor who created the word, he's on a CBS video from 1949.
While geopolitics has prevented the United States from using the word, there's no doubt that the Armenian Genocide is a historical fact.
While it has no problem publicizing modern genocides, as it should, the world is still waiting for the U.S. to use the word "genocide" when describing the Armenian Genocide. Sadly, the most powerful nation on the planet doesn't yet have the moral fortitude to acknowledge fully what the Armenians experienced," the article said.
Read also:Obama fails to keep Genocide recognition promise for 8th year