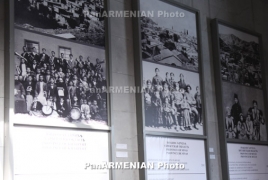 May 2, 2016 - 14:49 AMT
PanARMENIAN.Net - There are currently 2,000 open investigations and court cases in Turkey against individuals suspected of and charged with "insulting President Recep Tayyip Erdogan," political adviser and writer on the Middle East Annika H Rothstein says in an article on the Jerusalem Post.
"After recently having a Dutch journalist arrested in her home after criticizing Erdogan on Twitter and demanding of Germany that a Turkish satirist be arrested and extradited (a demand that was granted by German Chancellor Angela Merkel) there is little doubt that the Turkish government is serious about playing offense against foreign media daring to stand up to the regime," Rothstein said.
"This is happening on top of the ongoing and persistent violence toward and oppression of Kurds in Turkey, something that, much like the Armenian Genocide, is vehemently denied by Erdogan and his henchmen."
Citing Erdogan's recent remarks that the Armenian Genocide never happened and that "anyone who claims it did is an enemy of Turkey," the author analyses the reasonability of Israel's moves to mend ties with the Muslim nation.
"This development is worrisome for many reasons, and Israel should think twice before getting in bed with the likes of Erdogan," Rothstein says.
Remembering the millions of Armenians, Greeks, Kurds and other minorities murdered by the Ottoman Empire in the Genocide of 1915, the author says that Israel has great friends in the Kurds, and standing with Erdogan and his AK Party means actively selling them out, and to a larger extent selling out the values that "Israel alone champions in the region by not using its voice to condemn the anti-democratic Islamist regime in Ankara that goes beyond laws, borders and decency to oppress its people."
"Whatever short-term gains could come from not speaking truth to Erdogan's power will surely be counteracted by the long-term harm of warming up relations that are better kept deep-frozen," the writer adds.