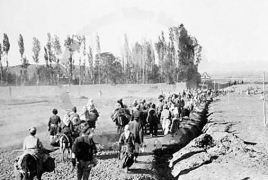 May 4, 2016 - 17:10 AMT
PanARMENIAN.Net - An Armenian woman found an old manuscript in the basement of her apartment building in San Francisco which turned out to be the original copy of one of the earliest reports of the 1915 Genocide in Armenia: The Diyarbekir Massacres and Kurdish Atrocities, Massis Post said in an article.
With its faded type, handwritten notes, and photographs taped to the pages, "it looked like a very important document," she said. So, she brought it to the Armenian Film Foundation for help figuring out what it was.
Hekimian, a founding member of the Armenian Dramatic Arts Alliance and board member of the Armenian International Women's Association, had actually just stumbled upon that most important document, written by British Pro-Consul Thomas Mugerditchian and published in 1919.
People all over the world can get a personal glimpse into Mugerditchian's life through the testimony of his daughter, Alice Mugerditchian Shipley, which is integrated into the Visual History Archive as part of USC Shoah Foundation's Armenian Genocide testimony collection. The testimony was originally filmed by documentarian J. Michael Hagopian and collected by the Armenian Film Foundation.
The Diyarbekir Massacres and Kurdish Atrocities is significant because it was one of the first written reports of violence committed against Armenian men, women and children in May 1914 leading up to the beginning of the Armenian Genocide in 1915, said Carla Garapedian, board member of the Armenian Film Foundation. The acts of violence and persecution against innocent civilians that Mugerditchian describes provide clues that a genocide was about to begin, Massis Post says.
Mugerditchian's report is based on his own personal observations as well as accounts from four other witnesses.
The book's content is truly harrowing. Mugerditchian describes babies being thrown off bridges, entire village populations marched off into the desert and massacred, and rivers flowing red with blood from murdered civilians.
Mugerditchian compiled his report, made four carbon copies (one of which is Hekimian's) and sent it to the U.S. State Department. It was published in 1919. In 2013, it was translated to English from the original Armenian.