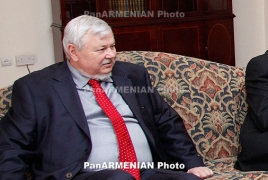 May 30, 2016 - 12:21 AMT
PanARMENIAN.Net - The Personal Representative of the OSCE Chairman-in-Office Andrzej Kasprzyk said Sunday, May 29 that the expansion of his Office will not change his existing mandate, but will instead increase the number of field assistants, APA cited him as saying.
"My Office will thus be able to increase the number of monitoring exercises [in the Nagorno Karabakh conflict zone], at the same time maintaining more regular contacts with authorities of both sides," he said.
The ambassador added that this will allow the OSCE Chairmanship and the Co-chairs to receive more comprehensive information about the situation and provide a more quick and flexible response to requests for support under his current mandate, also reducing the risk of escalation.
The work on expanding the Office is well advanced, the ambassador said.
Kasprzyk reminded that the Presidents of Armenia and Azerbaijan at a Vienna-hosted summit on May 16 agreed to finalize an OSCE investigative mechanism, expand the Personal Representative's Office, continue the exchange of data on missing persons.
"To this end, I was asked by the Chairperson-in-Office to prepare a concept for the expansion of my Office, with the support of the OSCE Secretariat," Kasprzyk said.
"The work is well advanced and I hope to present the final outcome, including an updated budget, in the coming days for OSCE approval in Vienna."