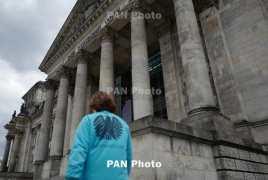 June 6, 2016 - 16:23 AMT
PanARMENIAN.Net - Chancellor Angela Merkel's office hit back Monday, June 6 at Turkish President Recep Tayyip Erdogan in a blistering row over a German parliamentary vote declaring the Ottoman Empire committed genocide against Armenians, The Peninsula reports.
The German Bundestag on June 2 adopted a resolution on the recognition and the condemnation of the Armenian Genocide.
The vote was unanimous in supporting the resolution with just one MP voting against and another one abstaining.
Titled "Remembrance and commemoration of the Genocide of Armenians and other Christian minorities in the years 1915 and 1916," the resolution passed with support from all the parties in Parliament. It was put forward by Chancellor Angela Merkel's conservative bloc, their partners in the government, the Social Democrats, and the opposition Greens.
Erdogan has angrily condemned last week's vote on the World War I massacres, charging that the 11 German MPs with Turkish roots who backed it supported "terrorism" by the banned Kurdish Workers' Party (PKK), and demanding "blood tests" to see "what kind of Turks they are."
Merkel's spokesman Steffen Seibert on Monday said that while Berlin also considers the PKK a terrorist group, "to associate individual members of parliament with terrorism is utterly incomprehensible to us."
"The resolution was a political initiative that emerged from the midst of the Bundestag, which is a democratically elected, independent organ under our constitution," Seibert told a regular press conference.
"The Bundestag reached a sovereign decision. That must be respected," Seibert said, adding that this was the message Merkel had given to the Turkish president, The Peninsula says.
Erdogan -- in a bitter reaction to the vote to recognize the 1915-1916 killings as genocide -- singled out German Greens party co-leader Cem Ozdemir, one of the instigators of the resolution passed on June 2.
Ozdemir has been placed under police protection after receiving anonymous death threats.