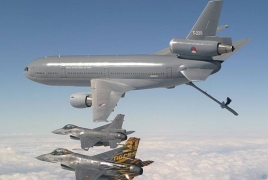 June 27, 2016 - 17:04 AMT
PanARMENIAN.Net - Defense Minister Ursula von der Leyen is to meet German troops at Turkey's Incirlik air base, despite a diplomatic row, Deutsche Welle reports.
Last week, Ankara denied a German parliamentary delegation access to the facility.
"It goes without saying that the leaders of the German Defense Ministry visit their soldiers in action," von der Leyen told the German newspaper "Bild am Sonntag" on Sunday.
She said she was planning a trip to the Incirlik air base in the coming days despite Turkey's refusal to allow a delegation from Germany's Bundestag to visit next month.
Turkey's Foreign Minister Mevlut Cavusoglu said that "the visit of non-military delegations and especially of politicians to the base is not seen as suitable," DW reports.
Von der Leyen blasted the decision, telling the paper "I have never experienced anything like this," adding that she would also use her visit "to explain to Turkey what it means to have a military under parliamentary control."
"These are the same members of parliament who raised their hands for the Patriot mission of the German military to protect Turkey from Syrian missiles," she said, referring to a three-year deployment of NATO anti-missile systems in southern Turkey that ended last year.
Relations between Berlin and Ankara hit a new low earlier this month when the German parliament unanimously voted to label the 1915-16 mass killings of Armenians by the Ottoman-Turks as genocide.
Germany has around 250 troops and several Tornado jets stationed at the base, a strategically important site in southern Turkey for the U.S.-led air campaign against the "Islamic State" extremist group in Iraq and Syria.