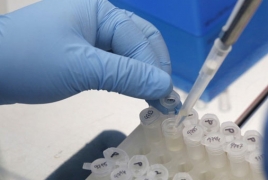 June 29, 2016 - 10:21 AMT
PanARMENIAN.Net - Researchers infected pregnant monkeys with the Zika virus to learn how it harms developing fetuses — and in a highly unusual twist, the public can get a real-time peek at the findings, the Associated Press reports.
Among the first surprising results: While most people harbor Zika in their bloodstream for only a week or so after infection, the virus lingered in one pregnant monkey's blood for 70 days and in another for 30 days.
A bit of good news: tests with non-pregnant monkeys suggest one infection with Zika protects against a second bout later on.
Rhesus macaque monkeys make a good model for studying how Zika infects people, researchers at the University of Wisconsin-Madison concluded Tuesday in Nature Communications. But what's novel is that the team is posting its raw data online right away — even ultrasound images of developing monkeys that they acknowledged at the time "can elicit stronger emotions than looking at relatively sterile charts" — so that normally competing research labs can work together to speed discoveries, AP says.
That collaboration will help "use as few animals as possible to answer important research questions," lead researcher David O'Connor, a pathology professor at UW-Madison, told reporters. "We hope this will encourage others to make their data available in real time to accelerate the response time to Zika virus and other outbreaks in the future."
A handful of other labs have joined in the movement to share their own data from Zika-infected monkeys in real time.
"This is how research should be, especially for emerging diseases that are causing so many problems," said Koen Van Rompay of the California National Primate Research Center at the University of California, Davis. He and O'Connor have begun consulting to avoid duplicating experiments. "We are in a race against the virus, a race against time. We should not be competing against each other," Van Rompay added.
The Zika virus, which is spread mainly by a tropical mosquito, is causing an epidemic in Latin America and the Caribbean. It causes only a mild illness, at worst, in most people but can cause severe brain-related birth defects if woman are infected during pregnancy. No one knows how big the risk is, or how to tell which pregnancies will be affected.