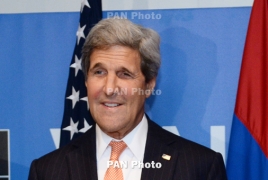 July 12, 2016 - 10:44 AMT
PanARMENIAN.Net - U.S. Secretary of State John Kerry will travel to Moscow with a visit this week, officials of the two countries confirmed on Monday, July 11. It will be America's top diplomat's fourth official trip to Russia since May 2015 where he is set to discuss the Nagorno Karabakh conflict among other issues, RT says.
Kerry will meet with his Russian counterpart, Foreign Minister Sergey Lavrov, to "continue to discuss topical issues of bilateral cooperation and international agenda," the Russian Foreign Ministry said in a statement. According to State Department spokesman John Kirby, such issues as the situation in Syria, Ukraine and Nagorno Karabakh will be discussed during meetings with Russian officials.
The U.S. Secretary of State will head to the Russian capital on Thursday, coming from France where he will be taking part in Bastille Day celebrations, Kirby said Monday. Moscow confirmed that Kerry would be in the Russian city on July 14-15.
Russia's Foreign Ministry said that Russia-U.S. relations "remain difficult," having "seriously suffered" from Washington's "unfriendly moves" since early 2014, when Western sanctions were initiated against Moscow in connection with the Ukrainian crisis. Despite these problems, the two countries continue to cooperate on a number of international issues. Working together on resolving the crisis in Syria, as well as on implementation of Minsk agreements of the Ukrainian peace deal are among its top priorities. Moscow and Washington also discuss other regional issues, including those in Nagorno-Karabakh, in the Middle East and North Africa, as well as in the Korean Peninsula.
"We expect that Kerry's visit to Russia... will facilitate the improvement of the atmosphere in Russian-American relations, as maintaining global stability and solving a wide range of international issues depend on them," the Foreign Ministry said.