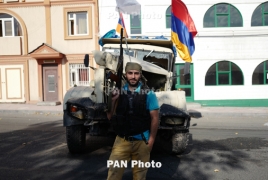 July 23, 2016 - 18:24 AMT
PanARMENIAN.Net - Members of the armed group that seized a police HQ in Yerevan and took everyone inside hostage said Saturday, July 23 that they are not going to surrender to the authorities.
The armed group are members of the Sasna Tsrer movement. One police officer was killed, and several more were wounded in a shootout that broke as the members of the group hit the gates of the police department with a Ural track. All the captives have been set free. The group demand the release of Jirair Sefilian, the founder of the Founding Parliament who was arrested on June 20, as he and a group of people had allegedly planned to seize premises and communication facilities, including the Yerevan TV tower. They also demand the resignation of President Serzh Sargsyan and creation of a transitional government.
"We are not going to lay down arms. We are not stressed out at all or confused," one of the members of group, Arayik Khandoyan said.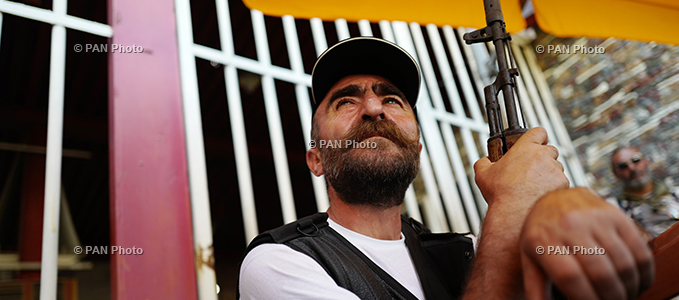 "And we seek to spread this atmosphere all around Armenia. We wait for people to stand up and shape this movement so that we all achieve our common goal," another of them, Varuzhan Avetisyan added.
Minutes earlier, another of the members, Pavel Manukyan called on people to not shun difficulties as "we are struggling against the internal enemy.
"We are not going anywhere," he said.
Avetisyan reiterated the group's demands and said they are afraid of nothing.
Meanwhile, Karabakh war hero Vitaly Balasanyan who has been mediating negotiations between the group and the law enforcement bodies said minutes later that the majority of the members and Sefilian himself have given up the idea of President Sargsyan's resignation.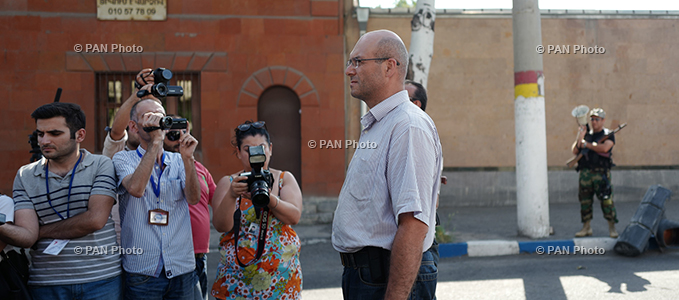 "They want the release of political prisoners, as well as all those who have been arrested during the recent protests near the police HQ," Balasanyan said.
Also, he assured the media representatives that the President has issued an order disallowing the use of force by all the law enforcement agencies.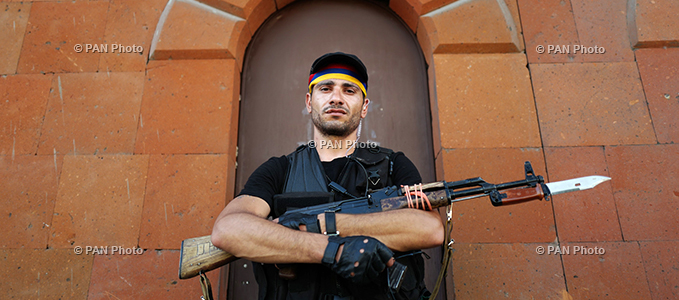 Another of the members, Sedrak Nazaryan later urged Balasanyan against making statements on the group's behalf, confirming that Sasna Tsrer still want President Sargsyan's resignation.
The group hours earlier agreed to release the captives in return for establishing a news bureau and meeting with media representatives.