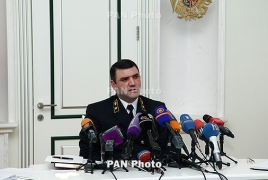 July 29, 2016 - 12:30 AMT
PanARMENIAN.Net - Armenia Prosecutor General of Gevorg Kostanyan believes there is only way to a peaceful resolution of the situation with the capture of a patrol regiment in Yerevan.
The group are members of the Sasna Tsrer movement. One police officer was killed, and several more were wounded in a shootout that broke as the members of the group hit the gates of the police department with a track. All the captives have been set free. The group demand the release of Jirair Sefilian, the founder of the Founding Parliament who was arrested on June 20, as he and a group of people had allegedly planned to seize premises and communication facilities, including the Yerevan TV tower. They also demand the resignation of President Serzh Sargsyan and the creation of a transitional government. Also, they want the authorities to halt Karabakh negotiations fearing they are going to cede some lands to Azerbaijan.
"In my opinion, a peaceful settlement is possible only when the armed group lay down arms as soon as possible," Kostanyan said in an interview with Shant TV.
"The problem of criminal responsibility will be partially solved, and all the negative consequences will be mitigated."
Weighing in on the murder of the police officer, Kostanyan said they first need to identify who was the one to shoot him dead.
"Once the shooter is determined, he'll be indicted."