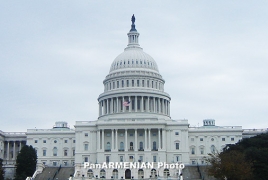 September 3, 2016 - 11:18 AMT
PanARMENIAN.Net - The Congressional Caucus on Armenian Issues Co-Chairs and Armenian Caucus Vice Co-Chairs congratulated President Bako Sahakyan and the people of Artsakh (Nagorno Karabakh) on their Independence Day, the Armenian Assembly of America (Assembly) reported.
Congressional Caucus on Armenian Issues Co-Chairs includes Representatives Frank Pallone, Jr, (D-NJ), Robert Dold (R-IL), Jackie Speier (D-CA), and David Valadao (R-CA) as well as Vice Co-Chairs Adam Schiff (D-CA) and David Trott (R-MI).
"On behalf of the Congressional Caucus on Armenian Issues, we are writing to congratulate you and the people of the Nagorno Karabakh Republic, Arstakh, as you celebrate the 25th anniversary of your independence on September 2. This historic day represents an important milestone in Artsakh's struggle to defend its right to self-determination and liberty," the Armenian Caucus Co-Chairs and Vice Co-Chairs stated.
The letter also highlighted Nagorno Karabakh's commitment to "advance democratic governance and rule of law," despite continued threats and violence emanating from Azerbaijan.
"We also condemn Azerbaijan's most recent aggression in early April against the people of Artsakh that led to hundreds of military and civilian casualties. We remain hopeful that a peaceful resolution to the Karabakh conflict will be found, and appreciate your unwavering pursuit of regional security and stability," Reps. Pallone, Dold, Speier, Valadao, Schiff, and Trott wrote to the President of Artsakh. "We will continue our support of the Nagorno Karabakh Republic and call for the formal recognition of Artsakh's independence."
Assembly Executive Director Bryan Ardouny commended the Armenian Caucus stating, "We applaud the Armenian Caucus leadership for its steadfast support and ongoing commitment to Nagorno Karabakh's democracy and security."