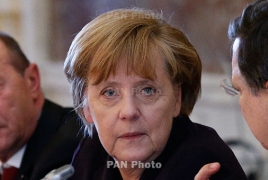 September 3, 2016 - 13:21 AMT
PanARMENIAN.Net - German Chancellor Angela Merkel clarified her government's position on a three-month-old parliamentary vote recognizing the Armenian Genocide, a move meant to strike a conciliatory tone and ease tensions with Turkey, Bloomberg says.
The vote triggered a diplomatic fallout between Germany and Turkey at a time when Merkel is struggling to hold together a refugee deal between the European Union and President Recep Tayyip Erdogan's government. His administration has blasted the resolution, issuing insults against German lawmakers of Turkish origin and preventing German officials from visiting a NATO airbase in Incirlik in southern Turkey.
Merkel in the interview tried to walk a political tightrope, rejecting a report by Spiegel Online that her government would distance itself from the June 2 vote to assuage Erdogan.
"I explicitly deny this," Merkel told RTL. "The government is in no way distancing itself from the resolution."
The Bundestag was joining other European legislatures, including in France, the Netherlands and Russia, in recognizing the events during World War I, in which 1.5 million ethnic Armenians were killed and deported, as a deliberate campaign of extermination. Turkey, which has acknowledged the killings that began in April 1915, disputes that it was an act of genocide.