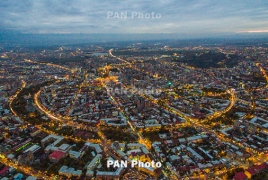 October 8, 2016 - 11:48 AMT
PanARMENIAN.Net - Yerevan is celebrating its 2798th birthday on Saturday, October 8.
The capital and largest city of Armenia, Yerevan is one of the world's oldest continuously inhabited cities. Its history dates back to 782 BC, when the fortress of Erebuni was founded by king Argishti I. A cuneiform inscription proves that the Urartian military fortress was built at the site of modern-day Yerevan.
The cuneiform inscription reads: "By the greatness of the God Khaldi, Argishti, son of Menua, built this mighty stronghold and proclaimed it Erebuni for the glory of Biainili [Urartu] and to instill fear among the king's enemies. Argishti says, "The land was a desert, before the great works I accomplished upon it. By the greatness of Khaldi, Argishti, son of Menua, is a mighty king, king of Biainili, and ruler of Tushpa."
The city is 29 years older than Rome, is the same age as Babylon and the Assyrian city of Nineveh, but unlike the latter, has become a prosperous city now.
The city's birthday has been celebrated since 1968, when the Erebuni-Yerevan events were organized for the very first time. This year, Armenia's capital turns 2798, and its birthday is being celebrated under the motto "Yerevan: A City of Sun".
A great number of events for all the age-groups of the population have been organized throughout Yerevan.