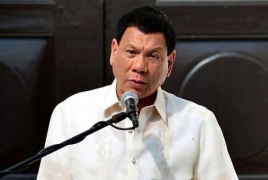 October 18, 2016 - 10:55 AMT
PanARMENIAN.Net - This week's visit to China by Philippine President Rodrigo Duterte points toward a restoration of trust between the sides following recent tensions over their South China Sea territorial dispute, China's official news agency said Tuesday, October 18, according to the Associated Press.
The visit by the recently elected Duterte, who was due to arrive in Beijing later in the day, will be a step toward ending years of estrangement between the countries, Xinhua News Agency said.
"Should he demonstrate his good faith, the trip will present a long overdue opportunity for the two nations, which enjoy longstanding friendship, to heal the wounds of the past few years and steer their relationship back to the right course," Xinhua said in a commentary.
Duterte's visit will help define how far he wants to shift allegiance from the United States to an Asian superpower locked in a territorial standoff with his small, impoverished country, and the Philippines' 65-year alliance with the U.S. — a key pillar of President Barack Obama's rebalance to Asia — could hang in the balance.
The Xinhua editorial signals how China hopes to use the visit to regain lost ground in a Southeast Asian nation that won a major arbitration lawsuit against Beijing's massive territorial claims in the South China Sea just three months ago.
China refused to take part in the litigation or accept the ruling, which said China's historical claim to virtually the entire strategic waterbody wasn't supported by international law.
"The verdict issued by a law-abusing tribunal has no place in the negotiations at all," Xinhua said, according to AP.
Duterte is scheduled to meet with Chinese President Xi Jinping and other officials on Thursday. The Philippine draft of a proposed joint statement touches on the restoration of permits for Filipino agricultural exports, China's support for Duterte's campaign against illegal drugs, boosting tourism and enhancing Coast Guard cooperation to avoid misunderstandings at sea.