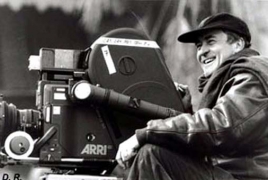 October 18, 2016 - 17:54 AMT
PanARMENIAN.Net - The two-time Oscar winning director reflected on his life and career and also explained why he is reluctant to work with digital film, The Hollywood Reporter reveals.
Bernardo Bertolucci received a standing ovation at his Close Encounter appearance at the Rome Film Fest on Monday, October 7 where he discussed his life and work with festival-goers.
The two-time Academy Award-winning director, one of Italy's five living Oscar-winning directors, discussed personal stories from his career, from his many troubles with Paramount Pictures over the years, to Jean-Paul Belmondo refusing to play the lead in Last Tango in Paris, which the French actor called "obscene."
He even addressed his reluctance to work with digital film. "HD is too well-defined," he said, explaining that he believes that cinema should be more like an impressionist painting.
Bertolucci shared that there is one thing that all of his films have in common, the philosophy of the director as a voyeur. From 1900 to the The Last Emperor to his more recent, Me and You, Bertolucci said he has seen his role as embodying the idea of voyeurism.
Bertolucci chose a scene from his Academy Award-nominated 1970 film The Conformist to play for the festival to illustrate his point. The film, based on the Alberto Moravia novel, stars Jean-Louis Trintignant as Marcello Clerici, a man in the late 1930s whose anxiety of being different forces him to become like everyone else, resulting in him becoming a fascist spy.
In the scene, Marcello returns to his Parisian hotel and approaches the door of his apartment where he sees a professor's young wife (Dominique Sanda) make sexual advances on his own wife (Stefania Sandrelli).
"I chose that scene because it was a moment that enables me to talk about voyeurism," said Bertolucci. "Trintignant becomes a voyeur at that point. He hides just outside the room and Dominique Sanda has possibly seen him and is possibly looking at him, but we're not sure," he explained. "And voyeurism interested me, intrigued me, because we know that those who hold a camera are generally voyeurs."
"Now I use the term voyeur without any attempt to judge or condemn voyeurism. What I am saying is that at that moment Marcello, played by Jean-LouisTrintignant, is a voyeur," he continued. "And the same applies to shooting with a camera, when you look through a viewfinder in those years, especially when I started a lengthy analysis, a Freudian analysis, I had to come to the realization that when you look through a camera, it's like looking through a keyhole to observe."
Bertolucci told the audience that he believes the best directors are those that can be described as voyeurs, including one of his great influences, Robert Bresson. "Well, voyeurism is also a mindset," he said. "I say this because I know that in life I am not really a voyeur, but when I make films I am in fact completely uninhibited in that respect."