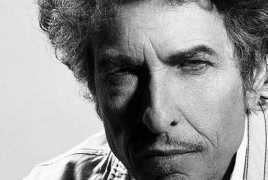 October 29, 2016 - 13:05 AMT
PanARMENIAN.Net - Bob Dylan has finally broken his silence on being a Nobel Prize honoree. Since the Swedish Academy announced that the 75-year-old singer/songwriter was picked as the recipient of 2016 Nobel Prize in Literature, he hadn't acknowledged it except for a mention on his official website that was later deleted, AceShowbiz reports.
Now, he has spoken up about being awarded the Novel Prize. "It's hard to believe," he tells The Telegraph about becoming a Nobel laureate, sounding pleased. He reveals that it felt "amazing, incredible" when he was first told about it. "Whoever dreams about something like that?" he admits.
Of whether he's worthy of the Nobel Prize for Literature, he says, "I'll let other people decide what they are. The academics, they ought to know. I'm not really qualified. I don't have any opinion."
Dylan was called "impolite and arrogant" by the Nobel committee after the Academy couldn't reach out to him. Responding to this ruckus, he simply says, "Well, I'm right here," but offers no further explanation. When asked if he would come to the awards ceremony in Stockholm, he responds, "Absolutely. If it's at all possible."
The Nobel Foundation has, in fact, got in touch with the "Positively 4th Street" hitmaker. "The news about the Nobel Prize left me speechless," Dylan told the Swedish Academy. "I appreciate the honor so much." He added, "If I accept the prize? Of course."