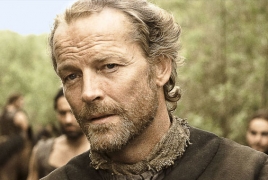 October 31, 2016 - 18:50 AMT
PanARMENIAN.Net - While Game of Thrones is pretty grim and violent, there are the occasional happier moments sandwiched in. And it looks like season seven will almost definitely have one of those going by new leaked on-set pictures, as one character who we last saw in a particularly tight spot appears to be doing a little better, Digital Spy said.
In the new snaps, it seems Ser Jorah Mormont (Iain Glen) is making a welcome return to the HBO epic as he reunited with Tyrion (Peter Dinklage) on a beach.
As well as conversing with the Lannister, we also spot Daenerys (Emilia Clarke) approaching with a group of guards.
The last time we saw them together, Dany sent Ser Jorah off to find a cure for the growing greyscale on his skin, so it looks like he might have survived after all that.
We are certainly expecting plenty of feels for this season seven moment, Digital Spy said.
While Khaleesi seems to have finally landed in Westeros to take the Iron Throne, it looks like she will finally meet with Jon Snow too.
Further set pictures seem to show the long awaited meeting between the pair alongside Tyrion, as well as some of Jon angrily confronting Theon Greyjoy (Alfie Allen).
Of course, it will be a family meeting of sorts, given that R + L = J theory was confirmed at the end of season six, Digital Spy said.
The last time we saw Dany, she was sailing with her fleet to Westeros alongside Tyrion and her army.