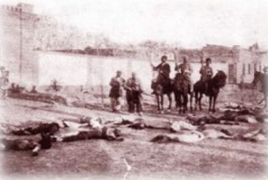 November 28, 2016 - 11:11 AMT
PanARMENIAN.Net - A new English book titled "Year of the Sword - The Assyrian Genocide, A History" has been published by Prof. Joseph Yacoub, an Professor Emeritus at the Catholic University of Lyon, France. The book is an English edition of the French version published last year and titled "Qui s'en souviendra ?: 1915 : le génocide assyro-chaldéo-syriaque," AINA news agency reports.
The Turkish genocide of the Assyrian (also known as Chaldean and Syriac) people, which occurred simultaneously in their ancient homelands in and around ancient Mesopotamia -- now Turkey, Iran and Iraq. The advent of the First World War gave the Young Turks and the Ottoman government the opportunity to exterminate the Assyrians in a series of massacres and atrocities inflicted on a people whose culture dates back millennia and whose language, Aramaic, was spoken by Jesus. Systematic killings, looting, rape, kidnapping and deportations destroyed countless communities and created a vast refugee diaspora. Hundreds of thousand Assyro- Chaldean-Syriac people were murdered and a larger number forced into exile.
The Year of the Sword (Seyfo - The Sword) in 1915, as Assyrians recall the events, was preceded over millennia by other attacks on the Assyrians and has been mirrored by recent events, not least the abuses committed by Islamic State.
Yacoub, whose family was murdered and dispersed, has gathered together a compelling range of eye-witness accounts and reports which cast light on this "hidden genocide." Passionate and yet authoritative, his book reveals a little-known human and cultural tragedy. A century after the Assyrian genocide and the treat of so-called Islamic State (IS), the fate of this Christian minority hangs in the balance in its ancestral homeland of Syria and Iraq.