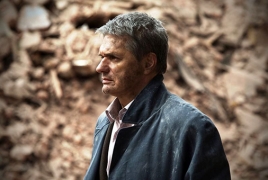 November 29, 2016 - 13:32 AMT
PanARMENIAN.Net - The drama "Earthquake" directed by filmmaker Sarik Andreasyan is Armenia's official submission to the 74th Golden Globes Awards in the best foreign film category, the Awards' official website reports.
30 movies are submitted in this category overall.
The film is based on the real events surraunding the disastrous earthquake which struck Armenia in 1988. The terrible earthquake claimed at least 25,000 lives and left about half a million people homeless. For Andreasyan it was a very special project, in which he wanted, after almost 30 years, "to tell the story not only of death and destruction but also to show the hope and community spirit in the face of the nightmare."
The story is built around a Russian family living in the Armenian city of Leninankan. Anna Berezhnaya (Maria Mironova) with her son Vanya (Daniil Izotov) and daughter Katya (Anastasia Savkina) awaits the return from prison of her husband (Konstantin Lavronenko) who eight years prior was sentenced to prison for the death of two people in a car accident.
Lavronenko says that he immediately accepted the invitation for the role: "I knew right away when I heard the suggestion that this is not an easy film, and immediately agreed to participate. I do not want to repeat the lofty words about the tragedy and memory, but thanks to this movie, we can live and feel the terrible events, and then to feel how beautiful and fleeting life is, how important it is to appreciate each other. It is necessary to empathize with the pain of our loved ones - because, unfortunately, we are starting to get used to the deaths of thousands of people."
Andreasyan and producer Ruben Dishdishyan recall how the original script underwent a lot of changes, despite the fact that they liked it very much. They decided to make the story more understandable to people not privy to the events of 1988. The script added some Russian and French characters, to show the role of other countries in the assistance to the victims.
"The tragedy that united the world" – is the slogan of the film. Part of the filming took place in the Armenian city of Gyumri, former Leninakan - one of the four cities most affected by the earthquake. Some locations there still look the same as they looked after the quake in 1988.