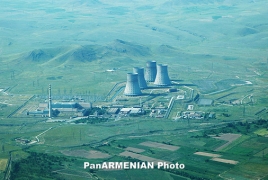 December 14, 2016 - 16:21 AMT
PanARMENIAN.Net - Armenia's nuclear power plant in Metsamor has restarted electricity production, the Energy Ministry said in a statement.
The NPP in the province of Armavir halted operation for an annual maintenance and refueling on September 20.
The first stage of work on extending the life of Metsamor NPP for another 10 years until 2026 has also been performed.
In addition, the power unit systems, equipment and structures have thoroughly been studied.
Earlier this month the International Atomic Energy Agency (IAEA) conducted a safety review of the plant, with a report to be published within three months.
The Armenian Nuclear Power Plant is located some 30 kilometers west of Yerevan. It was built in the 1970s but was closed following a devastating earthquake in 1988. One of its two VVER 440-V230 light-water reactors was reactivated in 1995.
Armenian authorities have said they will build a new nuclear power plant to replace the aging facility. The new plant is supposed to boast twice the capacity of the Soviet-constructed facility. The plant currently generates some 35 percent of Armenia's electricity.
In March 2014, Armenian government decided to extend the plant's service life because of delay in building a new unit. The service life extension has become possible due to a $270 million Russian loan and $30 million grant.