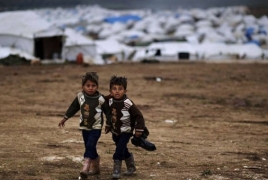 December 19, 2016 - 10:55 AMT
PanARMENIAN.Net - The UN Security Council will vote Monday, December 19 on a French-drafted resolution to quickly deploy UN observers to Aleppo, with Russia, Syria's ally, giving cautious backing to the measure, AFP reports.
Russia had threatened to veto a first draft presented by France calling for observers to monitor evacuations from Aleppo and report on the protection of civilians in the besieged Syrian city.
But after nearly four hours of closed-door council consultations on Sunday, a new draft was agreed.
Russian Ambassador Vitaly Churkin told reporters: "We put in some good hours of work and I think we have a good text."
French Ambassador Francois Delattre declared that the council had reached "common ground," while US Ambassador Samantha Power anticipated the member states would vote "unanimously" at 9:00 am (1400 GMT).
"The resolution we have drafted came after intensive negotiations because our goal was to have a result -- not to obtain agreement necessarily on 100 percent of our text, but to reach goals we consider essential," French Foreign Minister Jean-Marc Ayrault told AFP in Haiti.
The vote, initially tabled for Sunday, was delayed until Monday to allow the Russian delegation to consult with Moscow on the final draft resolution that provides for UN and other international observers to be dispatched to eastern Aleppo.
The new draft calls on UN Secretary General Ban Ki-moon to make arrangements, in consultation with Syrian authorities and the rebels, to allow UN monitoring of "the wellbeing of civilians."
Moscow had presented its own draft resolution that requested that the United Nations make "arrangements" to monitor the situation, but made no specific mention of sending observers to east Aleppo.
France and the United States said the new text, which took into account Russian proposals, resulted in minor changes.
"The text left standing includes all the core provisions to allow for UN monitoring, to get the 100-plus UN people ready to go to team up with the ICRC and the Syrian Red Crescent," said Power.
Evacuations of fighters and civilians from Aleppo were suspended on Sunday after gunmen attacked buses for a similar operation from two rebel-besieged villages.
Syrian forces this week moved to assert full control over the east of the city, which had been held by opposition fighters since 2012.