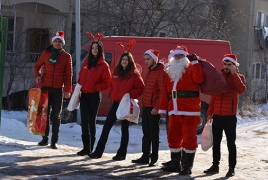 December 29, 2016 - 17:43 AMT
PanARMENIAN.Net - Special New Year initiatives of Coca-Cola Hellenic Armenia have already become traditional, seeking to unite people and fill their busy pre-holiday routine with joy.
Coca-Cola Caravan is one of such projects. In Armenia, this initiative - organized in a number of countries and loved and anticipated by people - was launched on December 23. Five well-recognized Coca-Cola Christmas trucks have already started their tour in the country. By January 12, Christmas Caravan will visit more than 30 towns: it will return to Yerevan on January 7, set to visit different districts of the city and surprise people with refreshing gifts.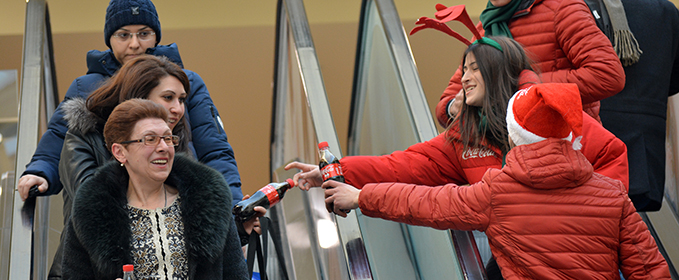 In the framework of another New Year initiative, citizens of Yerevan can see Santa and his team touring the streets of the city. Along with congratulations for the upcoming holidays, Santa distributes Coca-Cola to the passers-by. In addition, more than 500 people have already congratulated their close ones, sending them special greetings and unique branded gifts with Santa and his team.
Apart from Yerevan, Santa and the team have already congratulated citizens of Etchmiadzin and Vanadzor. In Vanadzor they have also visited the children of the town's orphanage, sharing with them the festive mood, toys and sweets.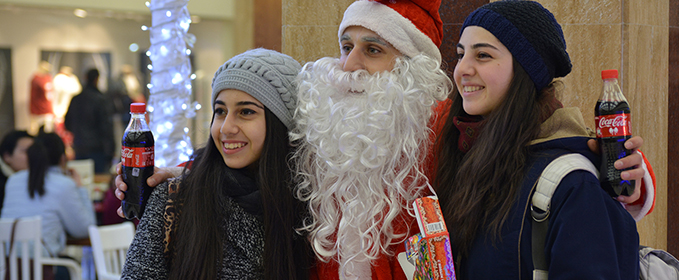 To enhance the holiday mood in Yerevan, Coca-Cola Hellenic Armenia has also supported the establishment of the newly-opened Winter Park. Now Santa and Mrs. Claus have a beautiful decorated house in Yerevan.
Coca-Cola Hellenic Armenia operates in Armenia for already 20 years. Besides its business activity, the Company pays special attention to corporate social responsibility projects. Along with water stewardship, community wellbeing and youth development, popular local festivities and events are in the center of attention.