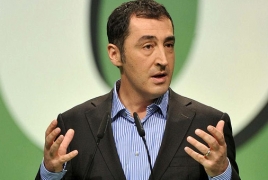 January 12, 2017 - 13:10 AMT
PanARMENIAN.Net - The co-leader of Germany's Green Party Cem Özdemir—a German Member of Parliament of Turkish origin and one of the initiators of the Armenian Genocide resolution that was approved by Germany's Parliament (Bundestag) on June 2, 2016—will be the keynote speaker at events in Toronto and Montreal, commemorating the 10th anniversary of Turkish-Armenian editor, journalist and columnist Hrant Dink's assassination, The Armenian Weekly reports.
Several community organizations in Toronto have come together for the past 10 years to remember the former editor-in-chief of the bilingual Turkish-Armenian newspaper Agos and to honor his legacy.
Speaking to the Armenian Weekly, chair of the organizing committee Raffi Bedrosyan said that the commemorations are not merely a remembrance, but rather a way for the community to continue Dink's pursuit for justice. "Remembering Hrant Dink on the anniversary of his assassination is not simply commemorating a slain Armenian journalist. By remembering, we continue his journey toward reconciliation and justice regarding the Armenian Genocide. We also help realize his vision of dialogue between Armenian and Turkish people—a dialogue that is based on truth and a common body of knowledge," Bedrosyan said.
Many influential figures have attended commemorations in Toronto honoring Dink over the years, including Turkish-German scholar Taner Akçam; lawyer, writer, and human rights activist Fethiye Çetin; and prominent Turkish journalist and writer Hasan Cemal. "These people share Hrant's vision and break all taboos in Turkey. They stand against the denial of the truth about the Armenian Genocide," Bedrosyan explained.
Dink was assassinated outside of his Istanbul office on January 19, 2007. He had written and spoken about the Armenian Genocide extensively, and was well known for his efforts for reconciliation between Turks and Armenians, as well as advocating for human and minority rights in Turkey. At the time of his murder, Dink was under prosecution for violating Article 301 of the Turkish Penal Code and "denigrating Turkishness." His assassination sparked huge national protests and outrage both in Turkey and internationally.
This year's keynote Cem Özdemir was a leading force behind the German Parliament's June 2016 resolution recognizing the Armenian Genocide and acknowledging German responsibility in not preventing the genocide committed by Ottoman Turkey—Germany's WWI ally. Born in Bad Urach, West Germany, Özdemir is ethnically Turkish—his family emigrated from Turkey to Germany as "guest workers."
The commemoration events will take place in Montreal on January 21, at the Montreal Armenian Community Center, Homenetmen "Gamk" Hall, and in Toronto on January 22 at the Armenian Community Center of Toronto.